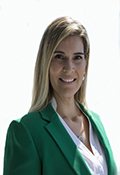 Cecilia Camargo P.A
cissacamargo@eliteinternational.com

(954) 260-2778

Realtor Associate
Cecilia Camargo was born in Brazil- Curitiba / PR, Graduated in 1996 by Faculdade Renascença in Hospitality. In 1997 she fell in love with Law, where she completed her bachelor's degree in 2002, held her postgraduate studies and MBA in consecutive years where she acted as legal representative in the Uniao de Bancos Brasileiros: Unibanco.
In order to qualify even more in his area she decided to come to the United States to study in 2006. She worked in several areas of law as a Paralegal, but the banking never ceased to be part of his life. In 2007 she joined in a Private Banking  where she worked for 3 years and was responsible for Latin American clients up to US $ 1,000,000.
In 2011 she was blessed by the birth of her daughter, where she resigned and decided to dedicate all her time to motherhood.
In that same year, her passion for Real Estate surfaced after the purchase of the house where she lives with her family.
Her former clients and many friends always came back to take some doubts as immigrants or even about Real Estate, was where she decided not to measure efforts and educate herself better about Real Estate and it resulted in the approval of her license to act in a more personalized and safe way for your customers.
Today, my passion is to dream and achieve goals together with my clients!
I am an Associate at Elite International Realty, one of Miami's most exclusive Real Estate companies. Elite is a boutique firm with a history that spans for almost three decades helping its customers make the home buying and selling experience pleasurable and convenient by building relationships based on trust, respect and mutual understanding.